NEW WIND POWERED LANDSPEED WORLD RECORD RATIFIED
It's official, the speed of 222.43km/h (138.21mph) achieved by Emirates Team New Zealand and Glenn Ashby in Horonuku on 11th of December at Lake Gairdner in South Australia has been officially ratified and confirmed as the new World Record Speed of a wind powered land yacht by the World Land Sailing Organisation, Federation International de Sand et Land Yachting (FISLY).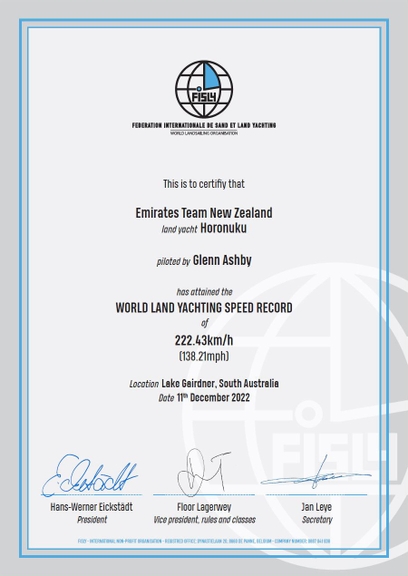 In a release by FISLY, the FISLY Council and the President of FISLY congratulated Emirates Team New Zealand and pilot Glenn Ashby for this extraordinary achievement while recognising how far the record has come since it was first recorded. "90 years ago in 1912 the first record was set by the well-known cross channel aviator Louis Bleriot with 54 km/h, it is now officially 222.43km/h."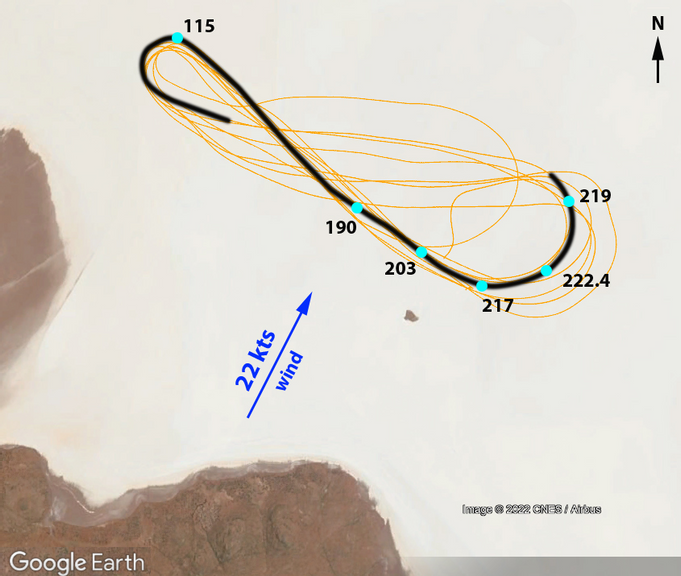 Ashby and the Team were proud to have had the record officially ratified but are already thinking ahead. "It is great to have our record claim now officially recognised by FISLY. They have been great to deal with and are stringent in their requirements which is essential when dealing with official world records.
So the Team are really proud- however we know Horonuku has more in her so we hope to go through the same process with an even higher speed the next time we have the opportunity with the weather", explained Ashby.
To increase the record further, a new speed of greater than 222.87 km/h will be required, which is 0.2% above the established record in accordance with the FISLY rules.
ABOUT FISLY:
The World Landsailing Organisation, Federation International de Sand et Land Yachting (FISLY) was founded in 1962 and is the governing body for the sport, for its rules and responsible for overseeing all landsailing record attempts. The federation currently includes more than 20 worldwide national associations.