A look inside the AC75 foil cant system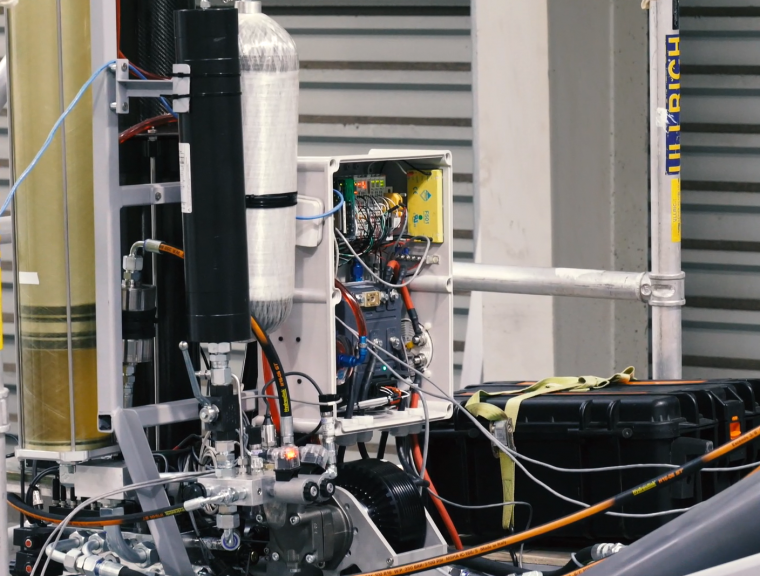 Emirates Team New Zealand last week revealed the prototype test jig for the AC75 foil cant system that will be used to control the composite foil arms that will essentially lift the foiling 75 foot monohulls out of the water to fly around Auckland's Waitemata Harbour in 2021.
Within the 36th America's Cup Protocol both the foil arm and the foil cant system are one design 'supplied parts' that all teams will use. Emirates Team New Zealand has taken on the design and supply of the hydraulic side of the cant system and Luna Rossa are in charge of the design and supply of the composite foil arm.
The foil cant system has been in design for the past 6 months led by Emirates Team New Zealand Project Manager Peter 'Brush' Thomas, with PLC Engineer Ryan Thomas and Carsten Mueller who has led the hydraulic development.
"The design is essentially an electronically controlled hydraulic system which controls the 40 tonne hydraulic cylinders which lift and lower the foil arm," explained Peter Thomas.
"Hydraulically we have a main valve block with a manifold at the bottom of a custom-built storage cylinder which has a piston inside of it which enables us to take the oil from the main foil arm cylinders and very quickly put it in the storage cylinder. We also have a tank cylinder which is the main source of the oil and is pressurised on one side.
"Electronically we have the Beckhoff PLC and the motor controller which takes the power from a battery and converts it into a voltage that the motor can use. The motor is connected through a coupling to the hydraulic pump.
The motor and pump on their own are not powerful enough to give us the pressure that we need so we pre-charge the system using the accumulator which enables us to move the foil arm in the rapid movement in about 3 seconds through the 50 degree arc from 70 degree submerged foiling angle to 120 degree angle at its highest point."
After each tack the tank is emptied to refill the accumulator. The recharge takes approximately 15 seconds after which the crew will be ready to tack the AC75's again.
A vital aspect of the test jig has been to engineer a test arm made of aluminium but in a way that it will match the characteristics of a carbon fibre arm so all of the vibrations and oscillations from the 900kg foil wings, or steel plates in testing, will mirror the real-life composite arm.
"We have been working hard to effectively trim the PLC to minimise the oscillations through the arm which if exist when sailing will vibrate through the boat. So it has been important that we get an accurate measure of this in the test jig and make the movements as smooth and efficient as possible."